Welcome to THE ROUTINE
the funk machine of the midwest!

NEWS!!! NEWS!!! NEWS!!!

Below

EVERY TUESDAY

Minnesota Music Cafe

in Saint Paul




JAY BEE and THE ROUTINE

"FUNK - Minneapolis SOUND"!!


Since April of 2001JAYBEE AND THE ROUTINE perform every Tuesday night in Minneapolis & St. Paul, MN where

musicians from PRINCE, THE TIME, MINT CONDITION, EARTH, WIND & FIRE, Tower of Power, RONNIE BAKER BROOKS, THE WINANS, SHANNON CURFAN, ANTHONY GOMES

and many others make their stop to visit and jam along. With a powerful funk statement JAYBEE AND THE ROUTINE perform to audiences making their heads bump back and forth. Besides the funk and incredible "pocket" this musicians can "take it out" loaded with music skills and experience, as JAYBEE says "here, is like a box of chocolates, you don't know what you're gonna get, but It will for sure be good!"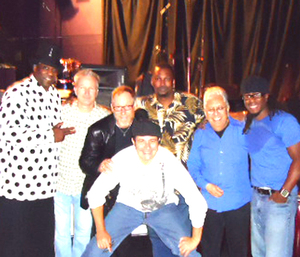 Minneapolis sound!
Funk-R&B, contagious soulful grooves that can go on for hours…
Influenced by The Time, Prince, Janet Jackson, Mint Condition…
Also, musical chops, yeah!, musical chops!!!!!

A new Minneapolis funk has been here since 2001!
Jaybee
The members

Jaybee: Lead Singer
Jellybean Johnson: Guitar
David Gonzalez: Bass
Pancho Torres: Keyboards
Mario Dawson: Drums
Pat Mackin: Sax
Patrick "THOR": Guitar
Send an email to: sanginazzjb@gmail.com
Where...

Great FUNK-Music Minneapolis Style! AT:
Minnesota Music Cafe
501 Payne Avenue, St Paul, MN 55130 (651) 776-4699
!!! every TUESDAY !!!
News
JAY BEE and THE ROUTINE

The Twin Cities get FUNKY!!!
EVERY TUESDAY!!!
9:30 p.m.
...a "DON'T MISS SHOW!!
The FUNK continues in Saint Paul...!!!
Visit David Gonzalez's SITE!!!